Company News
March 29, 2022
Automotive Data Mining Playbook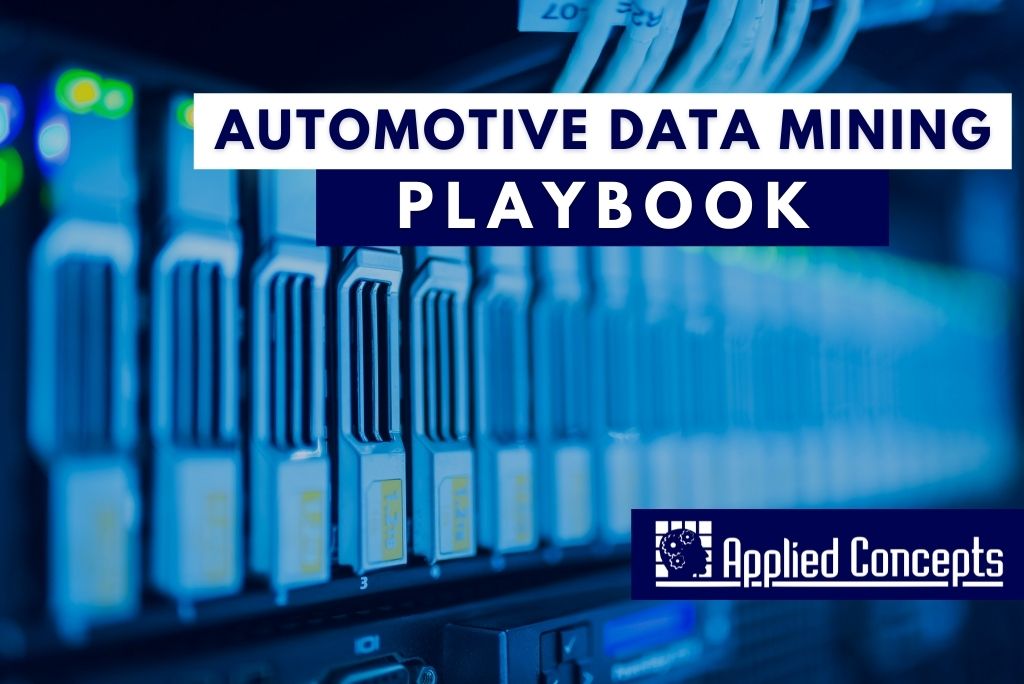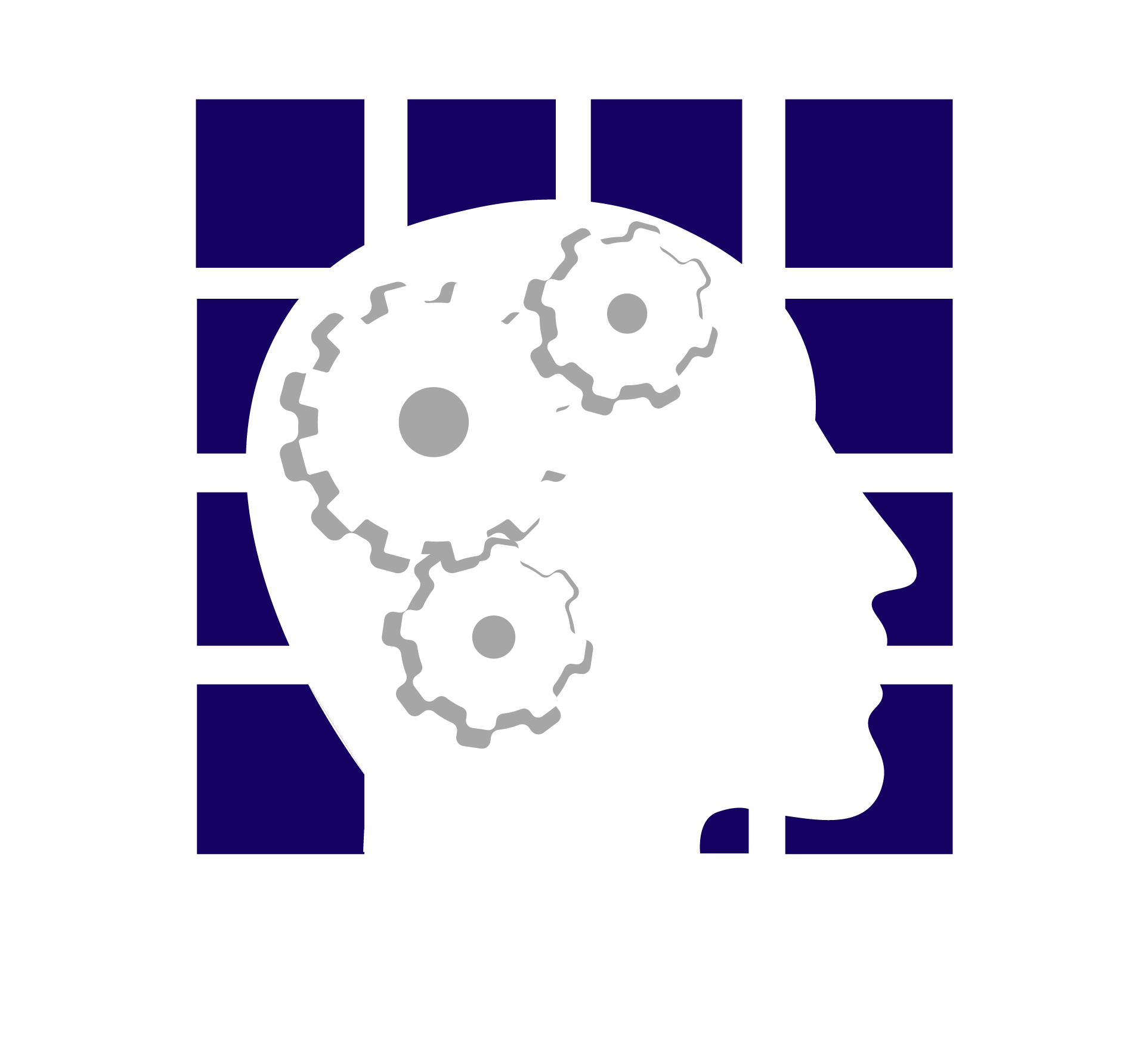 Applied Concepts

Data mining is one of the best ways for dealers to boost financial performance, but it can seem intimidating to many in the industry. Applied Concepts partnered with The AutoMiner to develop this Automotive Data Mining Playbook to help you understand the lay of the land and how to get started.
Quick Links
What is Data Mining?
In simplest terms, data mining is analyzing your customer and prospect database and using that raw data for targeted marketing purposes. In other words, using your existing data to identify someone who is a good candidate for a sale.
The insight gleaned from data mining allows for messages to be far more personal and relevant to the consumer than can ever be achieved with most other types of marketing.
A simple example would be sending car anniversary cards or first service reminders. It can also take on more sophisticated forms such as leveraging social media and identifying customer retention strategies.
Top Use Cases
While there are an infinite number of ways in which a dealership can use data mining, here are five of the most common:
1. Vehicle Acquisition
Quick Summary: Analyze your data to find past customers who own vehicles you want to acquire.
This is probably the number one reason dealerships are jumping into data mining. Having the correct contact information, avoiding customers who already sold their vehicle, being able to focus on certain models and cars of a certain age will help assure efficient prospecting for cars to buy from consumers.
2. Maintenance Reminders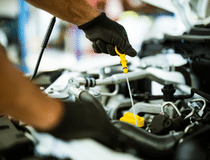 Quick Summary: Analyze your data to identify customers with vehicles that will soon require or benefit from maintenance.
Like it or not, inflation is once again rearing its ugly head. Consumers are feeling a major squeeze on their pocketbook and many of them will assume they can save money by taking their maintenance needs to non-dealership businesses. Using data mining to identify these customers and reaching out to them with highly targeted offers can keep them coming back to the dealership.
3. Recall campaigns
Quick Summary: Analyze your data to bring recalls in for service.
Safety recalls present an opportunity for dealerships. There are many modern data mining leverage tools that can help dealerships identify vehicles in need of recalls so owners can be contacted and encouraged to bring in their vehicle to have the necessary work completed.
4. Lost Service Customers
Quick Summary: Analyze your data to identify and target customers that have drifted away from the dealership for their service needs can pay off in a big way.
It might have been several years since certain customers have brought in their vehicle, but a check engine light or worn wiper blade might just be the catalyst that prompts them to look at your communication and come in. Data mining with a clean and correct database enables the dealership to hit those customers that would be most inclined to accept an offer and to contact them in the right way.
5. Pull-Ahead Lease
Quick Summary: Analyze your data to identify candidates for pull-ahead lease offers.
Who doesn't love a new car? Sending a key swap offer or leveraging data to spot prospective sales prospects in the service drive is a great way to shorten trade cycles and bring in trades.
"Many dealers wonder how to acquire enough new customers to stay profitable. But those dealers already have a gold mine of sales opportunities at their fingertips: their existing customers."

Dealer Marketing Magazine, "How Data Mining Creates Resale Opportunities With Existing Customers"
The Benefits
The obvious goal of data mining is to grow revenue and increase customer retention but there are a few other key benefits of correctly deploying a data mining strategy:
1. Lower Advertising Cost
Acquiring a new customer is anywhere from 5 to 25 times more expensive than retaining an existing one. With data mining, that's in large part because you're able to:
Easily access their contact information without having to pay for it
Deliver more relevant content that has a better chance of eliciting a desired action.
Data Mining vs. Direct Mailing: Mail is still a great way to speak directly to local customers, but data mining can help a dealership see a 20-50% waste reduction in their direct mailing costs. This is because it ensures the data that you're using to fuel that direct mailing campaign is accurate and well-sorted.
Data Mining vs. Social Media: Dealerships can also see a large increase in the efficiency of their social media advertising by ensuring your ads are getting in front of the right eyeballs. Many companies can deliver in-market shoppers but it comes at a steep price. Dealerships are paying 15-300% mark-up on ads in return for access to the audience. With clean and appended data, dealerships can create super relevant ads targeted at the right audience.
2. Create a Nimble Organization
A well ran strategy allows a dealership to market to those customers in hundreds of different ways using a variety of media to deliver messages. Regardless of what is going on with inventory levels, parts availability, or the economy, the dealership can react much faster, more efficiently and in a much more meaningful way.
Low Inventory?

Use data mining to acquire inventory with a trade-in campaign.

Lagging Service Revenue?

Identify customers hitting service milestones or customers who have never come in for service.
The beauty of data mining is you can use it in very targeted and cost-effective ways.
3. Retain by Adding Value (Rather than Annoyance)
Customers appreciate relevant messages and thoughtful follow-up. With a clean data mining operation, a dealership can stay in front of consumers with personalized messages that add value rather than create an annoyance. The end result is increased customer loyalty, increased revenue per customer, and building stronger dealership brand affinity.
"Selling to existing customers is six to seven times less expensive than selling to new ones. And it's easier, too. According to a Marketing Metrics study, you have a 15% chance of selling to a new customer, but a 65% chance of selling to an existing one."

Dealer Marketing Magazine, "How Data Mining Creates Resale Opportunities With Existing Customers"
Some Pitfalls
On the surface, data mining seems simple enough and most dealerships approach it with a lot of resources and initial results are very good. But over time the workload increases and, in many instances the results decrease. To prevent this from happening, it is important to understand the main reasons data mining often takes a crash landing at a dealership:
1. The Data is a Mess
It seems obvious that to undertake proper data mining a dealership needs good clean data. The challenge most of the time is that the data is not entered correctly at the onset and the data that is entered correctly is not cleaned on a regular basis. In many instances not all data points are checked for accuracy and dealerships forget about their CRM.
Avoid This Pitfall By: Working with a technology partner to find and delete inaccurate or corrupt records in a set of data and replacing it with accurate records. You can also DIY this process, but it's much trickier.
2. Cold Calling Kills Momentum
Some dealerships think equity mining equals cold calling. Oftentimes inexperienced salespeople dial the phone dozens of times to get one answer and the conversation lasts only seconds because the customer is not interested or, worse, no longer owns the car.
Avoid This Pitfall By: Take a multi-channel marketing approach and, ideally, use marketing automation platforms to efficiently reach out to your target list. This will create hand-raisers that the best salespeople can focus their time and energy on.
3. Part-Time Effort = Part-Time Results
Dealerships often invest in data mining software and assign someone to manage the workstream. Inevitably the dealership will find themselves shorthanded, and that dedicated data mining resources gets distracted or assigned to other work. That's when everything goes downhill.
Avoid This Pitfall By: A full-time and fully-dedicated data mining person might be appropriate for large dealerships or those with a demonstrated commitment to data mining. However, an alternative is working with a data mining partner like The AutoMiner that can do much of the upfront heavy lifting so dealership staff can focus on closing the newly mined prospects.
OK, I'm In. How Do I Get Started?
Starting anything new can be overwhelming, so here are a few key tips to get started:
Step 1:

Clearly Identify Objectives

What are you trying to achieve? As discussed, there are multiple use cases for data mining, so it's important to identify what your key objective is.
Vehicle acquisition?
Equity mining?
Service customers?
Pull-Forward Leases?
Avoid trying to "boil the ocean" and instead pick a few, well-defined areas to attack. Allocate your resources intelligently to achieve those objectives.
Step 2:

DIY versus Technology & Partner

Option 1: Do-It-Yourself Data Mining

Yes, you can take a DIY approach to data mining. A successful DIY approach requires: data is already clean, an existing tool or skillset to mine that data and make it actionable, and a strong commitment to data mining so you don't get "part-time results", among other things.

Unless you or someone in your dealership has a demonstrated expertise in data mining, our advice to take partner with a technology platform or data mining partner.

Option 2: Work with a Technology Platform and/or Data Mining Partner

On the technology front, there's a whole array of options available for you. Some require a dedicated person to become a maestro of that system. Others are more hands-off and allow for flexibility.

Companies like The Autominer have taken a more modern approach by pairing their technology platform with turnkey account management so that dealerships don't have dedicate staff to the workflow. If a dealer wants to be more involved, however, their technology allows a dealership to dedicate BDC agents or other reps to manage the workflow.

When selecting the right partner, here are a few key questions that should be asked:
How does the provider go about cleaning the data? What is cleaned (DMS, CRM) and how often?
Does the provider only clean data or can they enhance it? Can the provider help fill in gaps such as missing email addresses or same brand owners in the dealership's backyard?
Where does the clean data go? Are the CRM records updated?
How intuitive is the tech? Do you need a PhD in Data Analytics? Or is it easy to sort and take action with the data once it is cleaned or appended?
What can the dealership do with the data? Is the dealership limited to email, mail or phone campaigns done inside platform or can they use their data in other available marketing platforms?
Step 3:

Clean and Organize the Data

Whether working in-house with a data platform or an external technology partner, any solid data mining effort should begin with a set of data that has been cleaned and organized. Cleaning data is the process of finding and deleting inaccurate or corrupt records in a set of data and replacing it with accurate records.
Step 4:

Prepare Your Team

A realistic conversation about dedicated team members is critical. Here are some key tips:
Manager buy-in is critical to a successful data-mining strategy
Coordination between management team and the marketing team is key. What are the objectives? What is the feedback loop? Is everyone aligned?

Determine what people within the dealership will be dedicated to the dealership's data mining strategy.

Training is key. You can identify all the high-intent buyers in the world, but if your staff isn't trained to communicate with those prospects, it's a waste of time. This is where

Applied Concepts

can help.
Step 5:

Clean & Mine the Data

Once a dealership's data mining system is operational, the clean data must then be mined according to the clearly defined objectives.

If, for examples, the dealership wants to focus on service needs, the data analysis can provide the insight necessary for identifying those customers who would be most predisposed to bring in their vehicles for service.
Step 6:

Customer Outreach
Dealership sales staff can now use the mined data not only to reach out to the right customers, but to reach out to those customers in the RIGHT WAY.
Data mining is not only about finding the right customers, but also gaining the insight needed to communicate with them in such a way that it will yield the desired result.
Data mining can help dealerships figure out the right channel to reach out to a customer (phone, email, text, social media) and how to craft the right message.
Step 7:

Track and Measure Results

Things change, situations and challenges arise. The dealership's leadership team should be reviewing the results of their data mining strategy by looking for new ways to use their clean data to match customers with services or vehicles.
Management should meet at least twice a month to review progress. Clean data and a robust marketing program might help a GM sleep at night, but it doesn't pay the bills.
Establish clear and measurable KPIs based on the objective. But some basic KPIs are email replies, phone calls from prospects tied to ROs, changes in targeted inventory, and the like.
Dealerships might see some quick wins, but don't forget that marketing is a fly-wheel. Data mining may result in a hand-raiser to change their oil, but it also builds brand loyalty and keeps you top of mind so you can mine that prospect again to pull-forward their lease.
Final Thoughts
Data mining is like a small snowball rolling down a hill, with results growing over time and feeding off momentum. Most dealerships don't realize all the opportunities that exist right under their noses. The data is there. The insight is there. The answers are there. Dealerships just need to roll up their sleeves and they will not only see an incredible return on their investment but cost-savings as well.
That being said, data mining truly lives or dies based on the commitment, training and follow-through of dealership staff. Having one foot in and one foot out does not work; this is an all-or-nothing endeavor. But it is one that has proven its effectiveness time and time again.