Playbooks & Guides
July 27, 2021
Navigating the Auto Inventory Shortage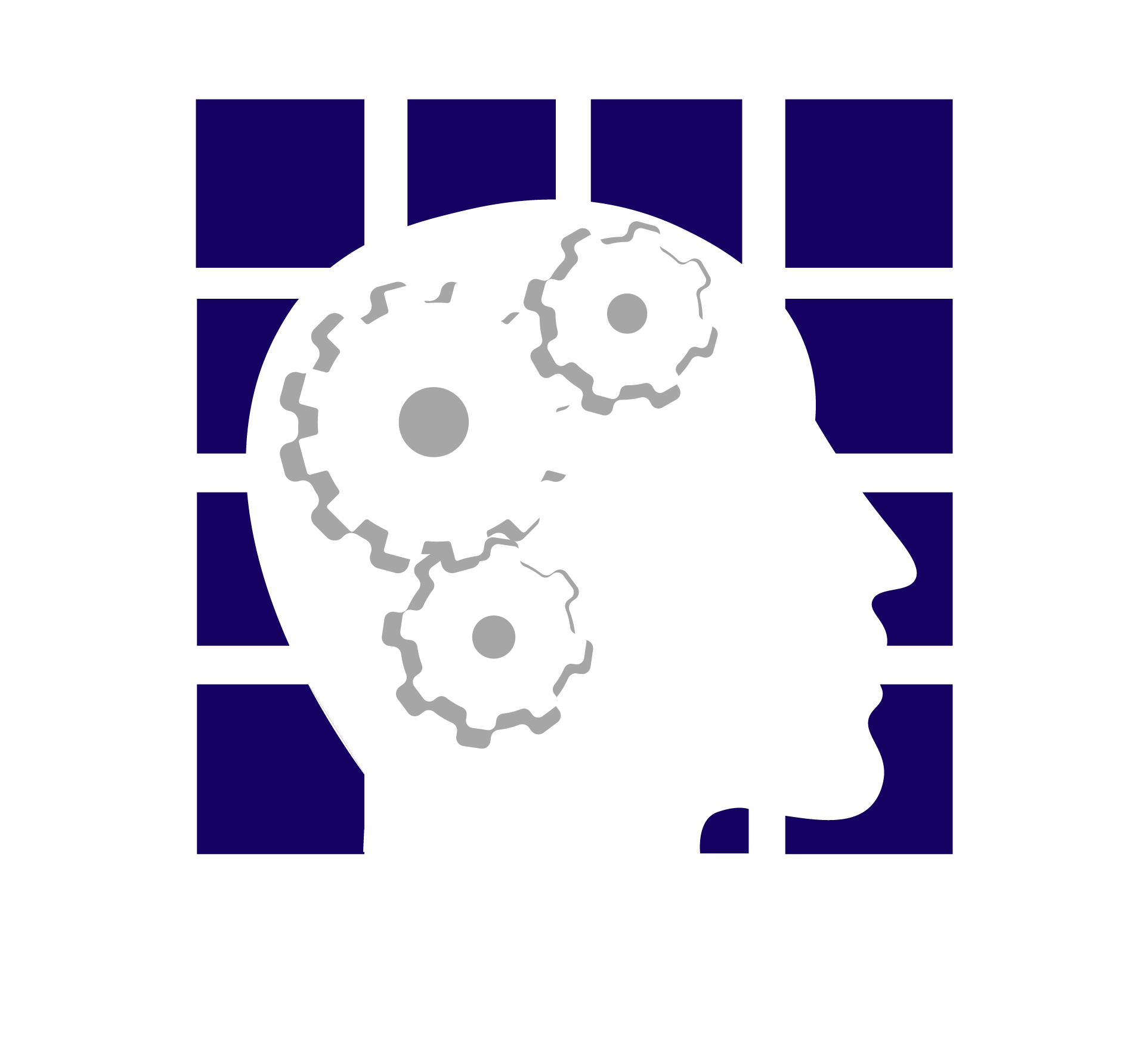 Insights Team

Quick Links
A Primer on the Inventory Shortage
Actionable Advice
A Primer on the Inventory Shortage
What's Happening and Why?
Across the continent, car dealerships are facing an inventory shortage. According to a Cox Automotive analysis of vAuto Available Inventory data, new-vehicle inventory was historically low at the beginning of June, running 43% behind levels for the same period in 2020 and 54% below the same timeframe in 2019.
There are a number of factors driving this crisis. The COVID-19 pandemic is partially to blame for the inventory shortage and the resulting price spikes. Last year, auto factories shut down for at least two months and lockdowns impacted the production of new cars. When vehicle sales tanked with the onset of the pandemic, manufacturers dropped orders for the microchips needed to produce cars. As economies have been opening back up, auto plants are trying to get back to full-scale production but chip manufacturers are not able to keep up with the demand.
Some other factors also contributed to the semiconductor shortage, including a fire at a chip supplier plant near Tokyo and weather-related problems in the automotive supply chain.
"Industry executives said the last time demand and supply were this out of sync was most likely after the end of World War II, when U.S. auto plants returned to making cars after years of churning out tanks and planes."

New York Times - 'The Market Is Insane': Cars Are Sold Even Before They Hit the Lot (July 15, 2021)
Impact on Manufacturers
Many manufacturers, including Ford and GM, have cut production and temporarily closed down several plants due to chip shortage. Auto Forecast Solutions is projecting that 5.8 million fewer cars will be produced this year compared to last year.
Many automakers expect massive declines in earnings this year due to the chip shortage. Ford is expecting a earnings decline of $2.5 billion in 2021. GM expects the chip shortage will cut its earnings by $1.5 billion to $2 billion.
To protect their bottom-line, manufacturers are prioritizing the production of high-demand vehicles and adjusting availability of some features and options. In some cases, vehicles are being produced without some key components and being held until the components are available. These components include features like navigation systems, which Nissan reportedly pulled from thousands of vehicles. GM also announced it would build some V8 trucks and SUVs without an automatic stop-start feature.
Low Days' Supply
Car dealerships across the nation are experiencing empty car lots. The average days supply has declined 70% compared to the same period in 2019, according to Cox Auto's analysis of vAuto's data. This month, nearly 41% of vehicles will be sold within 10 days of arriving at a dealership, up from 35% last month and only 25% in June 2019.
All-Time High Prices & Profits
A strong economic recovery, low interest rates, high saving rates, and COVID-19 related stimulus payments have made demand boom. The strong demand, paired with low supply, has increased prices to all-time highs. Overall, list prices are up 12%, but used vehicles and trucks prices have increased by 45% and 44%, respectively, compared to early 2020.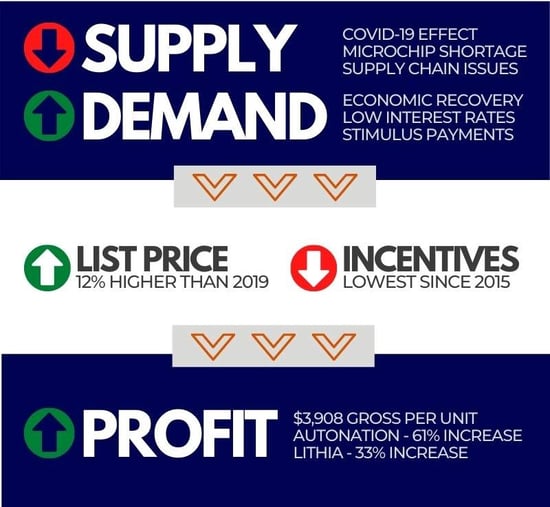 The Consumer Impact
A customer in the market to buy a vehicle is likely to embark on a frantic search to find a vehicle. If they actually succeed at finding a car to buy, the frenzy is unlikely to end there. They'll likely pay an all-time high price, and they'll need to act fast (including putting down a deposit for a yet-to-arrive vehicle) before someone else buys the vehicle from under them. How this all shakes out for car buyers is complicated.
When Will the Madness End?
The consensus is that the shortage will peak in Summer 2021 and slowly but surely improve for the remainder of the year and into the first half of 2022. A handful of sources believe it could last until 2023.
"Inventory is likely to be tight into 2022 as manufacturers continue to deal with the impact of the chip shortage for the remainder of the year."

Patrick Manzi - NADA Chief Economist
Actionable Advice
The Consumer Lens
Your customers are well-informed, so there's no need to tip-toe around the inventory shortage and the impact it's having on prices. As always, transparency is valued (and expected) by customer.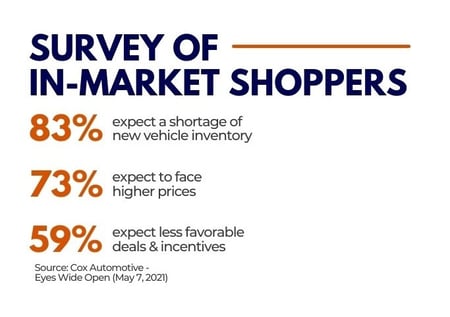 Few Shoppers; More Buyers
Because customer are well-informed about the inventory shortage, there are few tire kickers. This means the customer that call your store or fill out a web form are far along in their buying journey. There are a few practical implications of this:
They're likely to travel from farther distances, so don't overlook customers from another state.
Each lead represents a real opportunity to make a sale, so the stakes are higher to appropriately convert those leads.
Make sure appropriately blend Educate & Inform and Command & Control to align with where the customer is in their buying journey.
Negotiate with Private Sellers
Remember that it's going to cost you more to purchase from an auction than a street purchase. Use sources like Autotrader.com and CarGurus to search private sellers, reaching out to work a deal.
Know Your Inventory
Your inventory is not only limited, but it's changing rapidly. Make sure to increase the frequency that you walk the lot and stay well-updated on what's available and what inventory will become available.
Don't Neglect the Service Drive
Service traffic is so often neglected even though it's openly identified as a major dealer initiative. Don't let these opportunities go to waste. Assess each customer's unique situation to understand what may be of interest. Approximately 1.5% to 2.0% of your workable RO (repair orders) should be converting into a vehicle trade
Hold for Gross
Market Day Supply (MDS) will inform your ability to price above the market during this period of low inventory. The inventory shortage allows for less specific units and longer lot times. MDS for each brand is listed above for reference. Don't stock and price a brand with a low MDS the same way you would stock and price a brand with a high MDS. Also, ask yourself, do you really need to turn fast when inventory is so low?
"Consumers looking to buy a new car in the next few months should be prepared to pay the full retail price. With limited supply of both new and used vehicles, great deals are few and far between."

Brian Moody - Cox Automotive Commentary (July 1, 2021)
Trades, Trades, Trades
In addition to street purchases, you should be hyper-focused on trade-ins. Most dealers are calling and emailing former customers to offer to buy back vehicles they sold a year or two earlier because demand for used vehicles is as strong as it's ever been.
Merchandise to Tell the Story
Every vehicle has a story. Consider prioritizing inventory merchandising efforts based on ROI while weighing MDS. Provide photos, comments and pricing for all units – video is a medium that is now being heavily adopted by progressive dealers.
Don't Get Complacent
Last but not least, don't get complacent. Just because there are more buyers than shoppers, and just because demand is high, doesn't mean you don't need to deliver the whole experience that a customer deserves. Remember, your job isn't just selling a vehicle right now — it's about building a lifelong customer who comes back to your dealership for service and buying that 2nd and 3rd car down the road.
How We Can Help
Our training dives into the two key selling methods in auto sales. Not only will you master the concepts, but you'll also practice each selling method during live one-on-one roleplay. Learn more HERE or connect with us HERE for a free assessment.